MODERN EARL:
Christopher "Earl" Hudson – acoustic and electric guitar, lead vocals.
Ethan Schaffner – lead electric guitar, banjo, lapsteel guitar, background vocals
Ben Hunt – electric bass, background vocals
Dan Telander – drums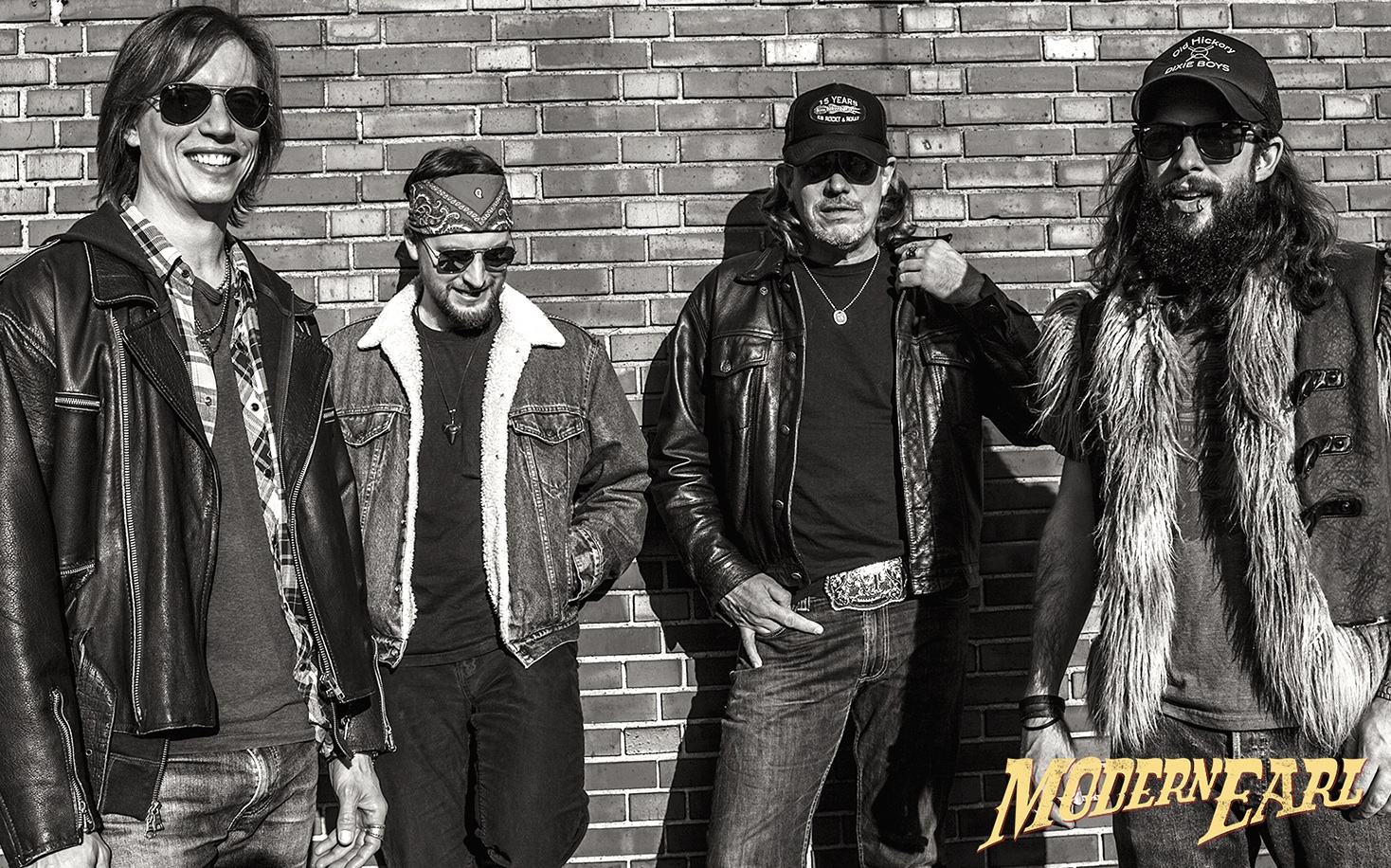 MODERN EARL (US)
Southern Roots/Rock – Ameriphonica Tour 2018
"If you like your rock hearty and your steak rare!"
Modern Earl ist eine sensationelle Live-Band. Die vier Musiker aus Nashville und Denver haben einen authentischen Southern Roots/Rock Sound, der sich zusätzlich vieler Elemente aus dem Bluegrass und Psychodelic Rock bedient.
Seit 8 Jahren tourt Modern Earl in Europa und nach 1000+ Shows haben Sie sich auch in Deutschland Ihre Fans erspielt. Dazwischen entstanden 4 Studio Alben und 2016 auch eine Live CD, welche die Ungeschliffenheit und ausgiebige Energie der Band wiederspiegelt.
Im Frühjahr 2018 erscheint die 6. Veröffentlichung "Ameriphonica" welche auf dieser Tour unermüdlich promotet wird! Die Erste Single der CD "Gone To The Country" erschien via neuem Video schon Anfang des Jahres und erreichte im Februar sofort Platz 1 "best new track of the week" bei Classic Rock Magazine , UK.
Christopher Earl Hudson, Ethan Schaffner, Ben Hunt und Dan Telander machen die Band zu einem energiegeladenen, musikalischen Feuerwerk, das bei jedem Konzert auf der Bühne gezündet wird. Musikalisch machen Sie keine Kompromisse und präsentieren einen speziellen und authentischen Musikstil mit starken Gesangs- Harmonien und mächtigem Gitarrensoud!
Die Musik ist beeinflusst von Led Zepp, The Allman Brothers, Merle Haggard bis zu Greatful Dead und sogar Metallica.
Der Live-Spirit der Band ist nachhaltig und die dreistimmigen Harmonien zum rockigen Sound lassen den Zuschauer mit Gänsehaut zurück. Die Energie, die sich bei jedem Konzert auf das Publikum überträgt, macht Modern Earl – Konzerte zu einem einmaligen Erlebnis, das man wieder erleben möchte! Don't miss this band – They rock hard!
"Modern Earl delivers an emotional energy bomb of Home grown American Roots Rock from the first chord to the very last Beat of a heavy drum". ( Rookie/Rollings Stones Magazine ).
More info: www.modernearl.com
Quotes:
"If you like your rock hearty and your steak rare!" Classic Rock Magazine
"This is where Rock marries Blues -they have an inevitable fling with Southern Rock, Modern Earl ignites a fire on stage!"( Made in USA, Magazine, France )
"Fazit: Modern Earl stehen ab jetzt in jedem Fall immer auf der T0-Do-Liste. Eine tolle energiegeladene und mitreißende Southern-Truppe" ( Sounds-Of-South.de )
"Modern Earl delivers an emotional energy bomb of Home grown American Roots Rock from the first chord to the very last Beat of a heavy drum"( Rookie/Rolling Stones Magazine)
MODERN EARL (US)
Southern Roots/Rock – Ameriphonica Tour 2018
"If you like your rock hearty and your steak rare!"
MODERN EARL is a kick-ass southern roots rock band with an all or nothing attitude. It is difficult nowadays to find a band that lights up the stage like this four- piece powerhouse of energy, chemistry and talent. From carefully crafted original songs, to perfectly interpreted rock classics, big-city blues, and southern fried roots music, Modern Earl lives and breathes its own unique style of music.
One of the hardest-working bands on the European festival circuit, Modern Earl ignites the air with tight vocal harmonies, and sizzling guitar licks that keep audiences on their feet from the first chord to the final encore. In clubs from Berlin to Barcelona, the band creates searing excitement with its high-powered, no gimmick, stage show and a style of music that cuts through the bull to get straight to the heart.
Raised in a family of musicians, lead singer and songwriter Christopher "Earl" Hudson enjoyed a life surrounded by all styles of music and performed in many different groups before forming Modern Earl in 2007. He teamed up with Nashville natives Ben Hunt (bass, vocals) and Ethan Schaffner (electric guitar, lap steel, banjo, vocals) and drummer Dan Telander and the boys hit the road hard. Having recently performed their 700th show they have shared the stage with such varied acts as Molly Hatchet, LeAnne Rimes, 80's supergroup Asia, Zucchero, Paul Young, Bob Geldof, Triggerfinger and many more.
Influenced by everyone from Zepplin, The Allman Brothers, Merle Haggard and Oasis, to Stevie Wonder, and even The Smiths and the Sex Pistols, Modern Earl's music ranges from bar stool ballads about extramarital affairs, to wacky and whimsical tales of life on the road. With all the smoothness and fire in a stiff shot of fine whiskey, Earl's commanding and soulfully gritty lead vocals are peppered with Ethan's scorching guitar licks strummed on strands of barbed wire. Adding a generous helping of country thunk, Ben's bass brings up the bottom accompanied by steam hammer drums driven by Dan on the back line. All this is seasoned with three-part harmonies that are as sweet as honey dripping fresh from the comb.
Modern Earl is a raucous bunch of rockers who enjoy a rolling good time on stage and off. With a catalogue of three full-length albums under their belt, the band released their 4th studio record, Hot Damn in 2014, featuring a more electrified rock sound. Modern Earl will be touring Europe non-stop in 2016 to promote their 5th Album, which will be released in early spring this year. Do not miss this Band, they will rock your world!