MODERN EARL:
Christopher "Earl" Hudson – acoustic and electric guitar, lead vocals.
Ethan Schaffner – lead electric guitar, banjo, lapsteel guitar, background vocals
Ben Hunt – electric bass, background vocals
Dan Telander – drums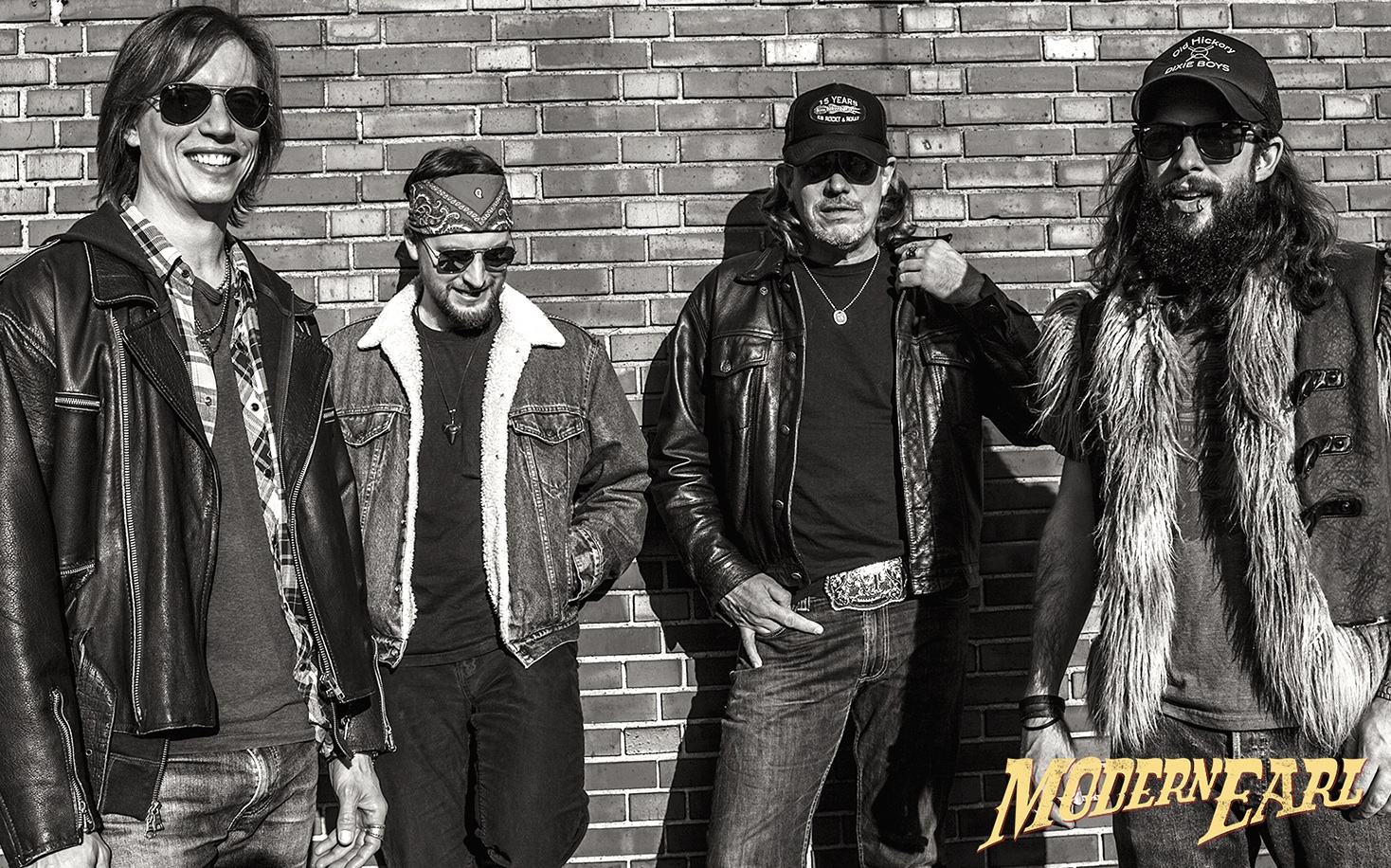 MODERN EARL ist eine energiegelandene Southern Roots/Rock Band, die keine Kompromisse macht.
Sie haben eine unglaubliche Bühnenpräsenz und spielen bei jedem Konzert eine elektrisierende, energiegeladene Show. Die Chemie auf der Bühne ist umwerfend und die vier Musiker sind absolute Profis. Modern Earl lebt und atmet einen speziellen und authentischen Musikstil – von selbstgeschriebenen Songs zu perfekt interpretierten Rock Klassikern zu melancholischen Bluesballaden und traditioneller Südstaatenmusik.
Als eine der am härtesten arbeitenden Bands der europäischen Festivalszene begeistern Modern Earl ihr Publikum mit rauchigen Harmonien und mächtigem Gitarrensound. Sie fesseln ihre Zuhörer von der ersten bis zur letzten Minute. Mit ihrer mitreißenden Performance und dem einzigartigen Musikstil, der sofort berührt, hinterlassen die Jungs in Clubs von Berlin bis Barcelona bleibenden Eindruck.
Leadsinger Christopher "Earl" Hudson stammt aus einer Musikerfamilie und ist mit den unterschiedlichsten Musikrichtungen aufgewachsen. Er spielte in verschiedenen Ensembles, bis er 2007 Modern Earl gründete. Dazu holte er Ben Hunt (Bass, Gesang) und Ethan Schaffner (E-Gitarre, Lap Steel, Banjo, Gesang) aus Nashville und den Schlagzeuger Dan Telander ins Boot. Seitdem sind die vier non-stop auf Tour und spielten Ende 2013 ihre 500ste Show. Modern Earl hat in dieser Zeit mit den Größen der Branche performt. Unter anderem standen sie mit Molly Hatchet,  LeAnne Rimes, ASIA, Zucchero ,Paul Young, Triggerfinger, Bob Geldof u.a. auf einer Bühne.
Der Musikstil von Modern Earl ist beeinflusst von Led Zepp, The Allman Brothers, Merle Haggard und Oasis, Stevie Wonder, den Smiths und den Sex Pistols. Ihre unverfälschten Songs reichen von Bar-Balladen, die von heißen Affären erzählen bis hin zu skurillen Geschichten vom Leben on the road. Earls soulig-rauchige Stimme, sanft und feurig wie ein guter Whiskey, harmoniert perfekt mit Ethan Schaffners rasenden und glühenden Gitarrenriffs. Ben Hunt am Bass und Schlagzeuger Dan Telander geben dem Rocksound der Songs das groovige Finish. Darauf setzen sie die dreistimmigen Harmonien, die Modern Earls Songs so stark machen und Gänsehaut verursachen.
Modern Earl ist eine ausgelassene und authentische Band, die zusammen mit dem Publikum Spaß haben will. Anfang 2014 haben sie ihr viertes Studioalbum Hot Damn veröffentlicht, das genau diesen elektrisierenden Rockcharakter hat. Modern Earl wird 2016 in Europa auf Tournee sein um  Ihr 5. Album vorzustellen und zu promoten,  welches im Frühjahr erscheinen wird.
Verpasst sie nicht – they rock hard!
 MODERN EARL is a kick-ass southern roots rock band with an all or nothing attitude.   It is difficult nowadays to find a band that lights up the stage like this four- piece powerhouse of energy, chemistry and talent.   From carefully crafted original songs, to perfectly interpreted rock classics, big-city blues, and southern fried roots music, Modern Earl lives and breathes its own unique style of music.
One of the hardest-working bands on the European festival circuit, Modern Earl ignites the air with tight vocal harmonies, and sizzling guitar licks that keep audiences on their feet from the first chord to the final encore.   In clubs from Berlin to Barcelona, the band creates searing excitement with its high-powered, no gimmick, stage show and a style of music that cuts through the bull to get straight to the heart.
Raised in a family of musicians, lead singer and songwriter Christopher "Earl" Hudson enjoyed a life surrounded by all styles of music and performed in many different groups before forming Modern Earl in 2007.    He teamed up with Nashville natives Ben Hunt (bass, vocals) and Ethan Schaffner (electric guitar, lap steel, banjo, vocals) and drummer Dan Telander and the boys hit the road hard.  Having recently performed their 700th show they have shared the stage with such varied acts as Molly Hatchet, LeAnne Rimes, 80's supergroup Asia, Zucchero,  Paul Young, Bob Geldof, Triggerfinger and many more.
Influenced by everyone from Zepplin, The Allman Brothers, Merle Haggard and Oasis, to Stevie Wonder, and even The Smiths and the Sex Pistols,  Modern Earl's music ranges from bar stool ballads about extramarital affairs, to wacky and whimsical tales of life on the road.  With all the smoothness and fire in a stiff shot of fine whiskey, Earl's commanding and soulfully gritty lead vocals are peppered with Ethan's scorching guitar licks strummed on strands of barbed wire. Adding a generous helping of country thunk, Ben's bass brings up the bottom accompanied by steam hammer drums driven by Dan on the back line. All this is seasoned with three-part harmonies that are as sweet as honey dripping fresh from the comb.
Modern Earl is a raucous bunch of rockers who enjoy a rolling good time on stage and off. With a catalogue of three full-length albums under their belt, the band released their 4th studio record, Hot Damn in 2014, featuring a more electrified rock sound. Modern Earl will be  touring Europe non-stop in 2016 to promote their 5th Album, which will be released in early spring this year.   Do not miss this Band, they will rock your world!