Recent Blog Posts
Modern Earl's KICKSTARTER campaign has begun. Help fund our new Live Album!
CLICK HERE
Happy 2016, Lets Rock!
2015 went out with a big ol'bang and what a year it was. Modern Earl went through a couple of changes and in the end everything worked out better than ever. We played a ton of great shows, met new, cool people and added Dan Tealander to the band as our new, permanent, bad ass drummer. He is a pro with a great feel and completely understands our music as well as life on the road plus he is a real nice guy. Bring it on! 2016 will see a new record for us as well as a whole bunch of tour dates that will take us to many new, unexplored areas as well as old favorites. Keep your eyes here on our webpage for all the upcoming dates and make sure to come check us out. Thanks to YOU. Bammmm!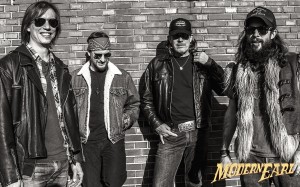 Feelin' Good!
We got through the summer without a hitch and what a great summer it was. We were lucky to have played alot of festivals and events all over the place including, Norway, Poland, Latvia, France, and alot in Germany. It is really a good feeling to play on a stage outside knowing that the people in the audience are relaxed and enjoying the weather. Our job is always to make people feel good and we think do a pretty good job of that! As we wind down the last 3 months of this year's touring our eyes and ears are already on 2016. At the moment we are tracking demos for our next record which is due out in the spring. We think you are gonna like it alot! Stayed tuned right here for updates on the status of the new recordings! We appreciate it!

So Far So Great!
Its great to be back on the road and playing music. We just finished our first 5 shows in Germany and the crowds have been AWESOME. Full houses every night, good food, cold beer, and a lot of laughs. We are so looking forward to rocking out with everybody on the rest of the Access To The Excess Tour. Its amazing to be able to put smiles on peoples faces just by playing songs and telling our stories, really loudly, and getting paid. We are very thankful! Fire it up!
Out with the old, rock in the new!!
Hey everybody, as the clock winds down, the hall clears out, and the lights go dim on 2014, Modern Earl would like to thank all of the people who support and appreciate what we do. WOW! What a kick ass year it was. We travelled all over the place and had the privilege to turn it up pretty loud and tell some pretty awesome stories!! 2015 is gonna kick major ass and we invite y'all to keep on going crazy with the fellas! We will take a little time off until March, go to the gym, have a little dance, drink a little bit of the good stuff, and then be back in your face with BRAND NEW TOUR! Keep an eye out for all of our new dates and a couple other surprises. WE LOVE TO ROCK !!! Love, Peace, and Chicken Grease!